Manual of universal joint shaft / cardan shaft
http://www.timothyholding.com/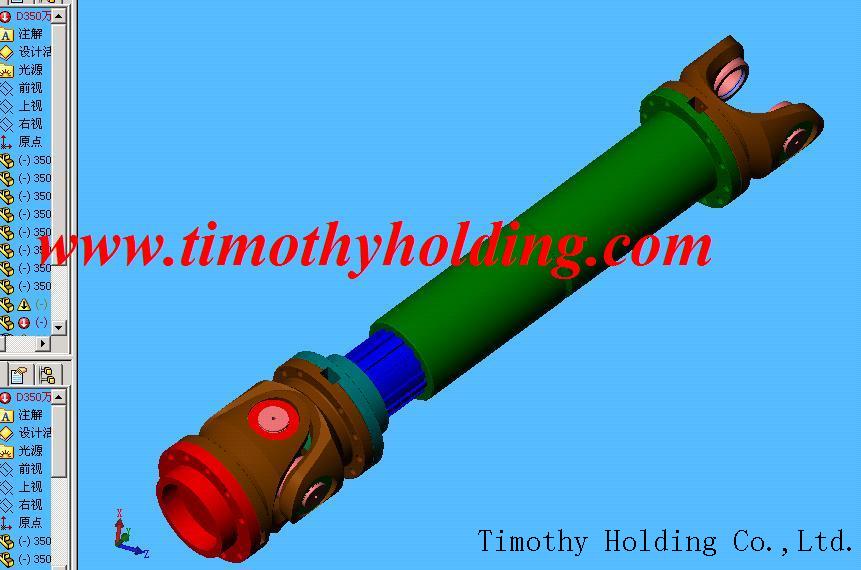 Correct selection,installing and carefull maintenance are the important conditions to make the coupling use normally,so please pay attention to following points:
1.Correct selection is important for excellent performance of universal joint shaft / cardan shaft .
2.Must specify this gerneral drawing number when ordering the same parts.
3.Class 10.9 bolt is coated with anaerobic adhesive to prevent looseness.
4.In order to use it easily,we recommend cooperation f8 for outshot of flange and cooreration H8 or keyway of end surface key.Keep flange surface clean when installing and check the connecting bolts regularly ,and tighten them with a stipultated pre-tightening force. When putting spline shaft into spline tube,the central lines of bearing holes on both ends should be the same plane to guarantee the shaft work synchronously.
5.Our products have been injected grease already after production.Please lubricate it in one or two months after installation and use.
6.Pay attentation on preventing water,dust and other corrosive substances.Please don't knock the device with hammer or it will reduce the service life of the product.
7.If there is abnormal sound or move us and down,please examine it in time by professional .
http://www.timothyholding.com/